More than 80 Healthcare Companies Commit to Advancing Digital Health Equity
As leaders in digital health, Executives for Health Innovation (EHI) is committed to advancing digital health equity. As a part of this work, we are pleased to share with you our Digital Health Equity Pledge.
More than 80 leading healthcare companies signed the Pledge, which represents a shared belief that digital health technologies have the potential to be powerful tools to identify and address health inequities. Designed to ensure that powerful digital health technologies do not exacerbate existing biases, the Pledge represents commitments in four main areas: accessibility; diversity; respect; and public policy.
Digital health technologies are already being used to bridge historical barriers to healthcare access such as geography, language, culture, and affordability; however, there is more work to do to achieve the goals of the Pledge.
Reach out to Wanneh Dixon at wanneh@ehidc.org if you are interested in learning more about EHI's health equity work.
NOTE: This pledge is open to organizational signatories only. Please do not complete this form if you are not authorized to sign on behalf of your organization.
List of signed companies will be updated every two weeks.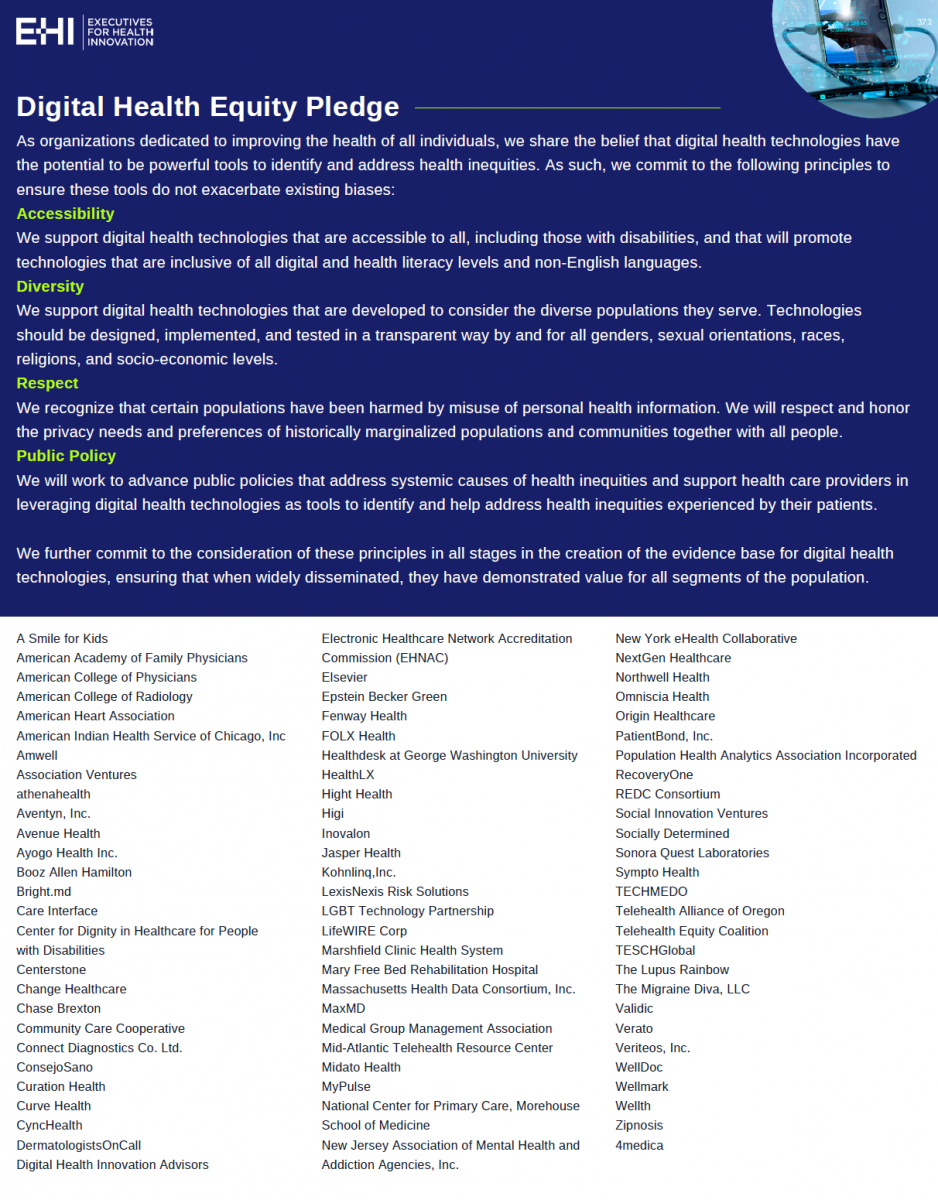 Smile for Kids
American Academy of Family Physicians
American College of Physicians
American College of Radiology
American Heart Association
American Indian Health Service of Chicago, Inc
Amwell
Association Ventures
athenahealth
Aventyn, Inc.
Avenue Health
Ayogo Health Inc.
Booz Allen Hamilton
Bright.md
Care Interface
Center for Dignity in Healthcare
for Peoplewith Disabilities
Centerstone
Change Healthcare
Chase Brexton
Community Care Cooperative
Connect Diagnostics Co. Ltd.
ConsejoSano
Curation Health
Curve Health
CyncHealth
DermatologistsOnCall
Digital Health Innovation Advisors
Electronic Healthcare Network Accreditation Commission (EHNAC)
Elsevier
Epstein Becker Green
Fenway Health
FOLX Health
Healthdesk at George Washington University
HealthLX
Hight Health
Higi
Inovalon
Jasper Health
Kohnlinq,Inc.
LexisNexis Risk Solutions
LGBT Technology Partnership
LifeWIRE Corp
Marshfield Clinic Health System
Mary Free Bed Rehabilitation Hospital
Massachusetts Health
Data Consortium, Inc.
MaxMD
Mayo Clinic
Medical Group Management Association
Mid-Atlantic Telehealth
Resource Center
Midato Health
MyPulse
National Center for Primary Care, Morehouse School of Medicine
New Jersey Association of Mental Health and Addiction Agencies, Inc.
New York eHealth Collaborative
NextGen Healthcare
Northwell Health
Omniscia Health
Origin Healthcare
PatientBond, Inc.
Point-of-Care Parners
Population Health Analytics Association Incorporated
Qure4u Health, Inc
RecoveryOne
REDC Consortium
Social Innovation Ventures
Socially Determined
Sonora Quest Laboratories
Sutter Health
Sympto Health
TECHMEDO
Telehealth Alliance of Oregon
Telehealth Equity Coalition
TESCHGlobal
The Lupus Rainbow
The Migraine Diva, LLC
Validic
Verato
Veriteos, Inc.
WellDoc
 
Wellmark
Wellth
Zipnosis
4medica