Best Practices, Consumers, COVID-19, Population Health, Social Determinants of Health, Telemedicine
Webinar: After the Curve Flattens: What's Next for Healthcare and COVID-19 June 11, 2020
The COVID-19 outbreak caused by the coronavirus has had a profound impact on our healthcare delivery and support systems, our economy, safety and overall way of life. The U.S. healthcare system is still in the throes of COVID-19 mitigation and treatment. As hospitals and health systems look to open their doors to non-COVID patients, what happens to our healthcare delivery system? Healthcare has had to pivot and did in many cases in ways never thought possible. The question remains - do we or can we go back to the way things were?
In this one and a half hour panel, we will discuss how healthcare providers, payers, pharmacies and life sciences businesses have shifted in how they provide care and services and what will be the long-term impact for our healthcare systems.
Speakers: 


Josh Schoeller​
CEO
Health Care Markets LexisNexis Risk Solutions
Josh Schoeller is an industry thought leader and senior business leader with over 25 years of demonstrated success providing results-oriented operational and technical expertise and organizational direction. He has broad industry and vertical knowledge across Payer, Provider, Life Sciences and Pharmacy healthcare industries and has held key positions in Sales, Product, Operations and Technology leadership roles. Josh currently serves as Senior Vice President and GM of Healthcare. Josh has P&L responsibility and oversees all business functions including Sales, Marketing, Product, Delivery, Market Planning and Engineering for LexisNexis Health Care. Josh has literally grown up in the data hygiene, data integration and analytic decisioning space. His specific domain expertise spans big data, provider and identity data management and integration, application architecture, predictive analytics and decision support. His record of success working with multiple segments across healthcare has provided him the expertise to solve challenges faced by stakeholders at various levels within an organization, leading them to keep the big picture in focus while solving specific problems.


Rich Morino​
Senior Director Strategic Solutions
LexisNexis Risk Solutions
Rich is part of LexisNexis Healthcare's Strategic Clients team.  In his current role he provides industry and solution expertise on such topics as improving health outcomes, reducing the cost of care, and enabling consumerism. Over the last 20 plus years Rich has focused on the use of analytics and predictive modeling on healthcare and non-healthcare data.  Rich has leveraged this background in industries such as benefit management, statistical software, FWA and HIT.  In addition to LexisNexis Healthcare, Rich has worked as such companies as Optum (then Ingenix) SAS Institute and Change Healthcare (then Emdeon) in roles ranging from Industry Consultant to Sales Management.  Rich is a graduate of the University of Illinois at Urbana-Champaign.


Ira Klein, MD, MBA, FACP
Senior Director of Quality, Strategy Customer Group
Johnson & Johnson
Ira Klein, MD, MBA, FACP, is the Senior Director of Health Care Quality Strategy in the Strategic Customer Group of J&J Health Care Services, advancing Janssen's ability to deliver industry-leading value-based solutions to the new value-based marketplace. This work is facilitated by a personal record of having worked on a variety of national quality and policy committees in D.C., and with many medical specialty societies and patient advocacy groups. Previously, he was the National Medical Director for Clinical Thought Leadership at Aetna, capping a 10 year career in the National Payer space. During this time, he founded the Oncology Solutions team, creating and administering value based and medical home contracts in oncology, as well overseeing advanced analytics in population health for large self-insured employers.
Prior to Aetna, he led the quality, cost and care management area for the Bayshore Community Health System, including inpatient, outpatient, sub-acute, and long term care services. Prior to that, he was CMO of Elderplan, a CMS enacted Medicare Demonstration Project in NYC serving the frail elderly. He began his career practicing Internal Medicine for 7 years at Robert Wood Johnson Medical School as an Assistant Professor in the Division of General Internal Medicine.
Ira holds a BS from Rutgers University College of Pharmacy, an MD from University of Medicine and Dentistry of New Jersey – Robert Wood Johnson Medical School, and an MBA from Rutgers University, graduating with honors from all three programs.


Mike Archuleta
CIO, Bridgecare Health Network, Mt. St. Raphael
Recognized as a Top Hospital and Health System CIO to know and named a Rising Star in Healthcare, Michael has extensive experience and a proven track record of driving increased levels of productivity, profits, high integrity customer relationship skills and expert problem-solving approaches. Michael currently serves on the advisory board for Prime Health and as a technology advisor for Self Care Catalyst. He is also an active member of the College of Healthcare Information Management Executives, a cybersecurity advisor to several healthcare startups and an active Speaker within the field of Health Information Technology.
Under Michael's guidance and leadership, Mt San Rafael Hospital became one of the leading hospitals in the State of Colorado for leveraging advanced technology to enhance the patient and provider experience. With Michael's innovative, driven approach, the hospital met HIMSS Analytics Stage Six recognition on the eight-stage HIMSS Analytics Electronic Medical Record Adoption Model, a feat only reached by thirty percent of U.S. hospitals. Leveraging advanced Information Technology to improve performance for value-based health care in the areas of infrastructure, business, administrative management, quality, safety, and clinical integration the Information Technology Department has also been presented the 2015, 2016, 2017, 2018 and 2019 Healthcare's Most Wired Award which is given annually to the top hospitals in the country making the most progress in the adoption of Health Information Technology. Through Michael's leadership, Mt. San Rafael achieved recognition as best overall organization from the 2019 Most Wired survey.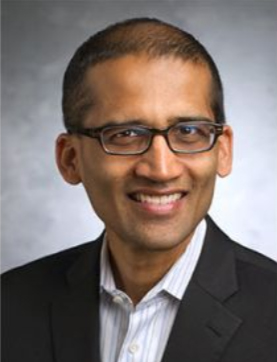 Anupam Goel, MD, MBA
Chief Health Information Officer
UnitedHealthcare Clinical Services
Anupam Goel is UnitedHealthcare Clinical Service's Chief Health Information Officer. He's a general internist with additional training in clinical informatics. He was the co-Principal Investigator for the San Diego Beacon Community connecting electronic medical record systems across the metropolitan area. Prior to joining UnitedHealthcare, he was the inpatient chief medical information officer at Advocate Health Care. He led the effort to move physicians from telephone transcription to voice-to-text using smartphones, an initiative that reduced transcription costs by over 50% in one year. He helped the organization win a HIMSS Davies award for using health information technology to drive business objectives. His professional interest is using technology to help individuals make decisions to minimize avoidable disability and sustain behavior change.


Andrew Renda, MD, MPH
Andrew Renda, MD, MPH is regarded within the industry as one of the leaders in clinical and community collaborations around population health strategies. A published author and speaker in the field of social determinants of health and chronic disease, Dr. Renda's work strives to inform co-created solutions to improve community health. In his current role as Associate Vice President, Population Health for Humana, he leads four population health and social determinants of health work streams: Insights, Strategy & Execution, Analytics & Platforms, and Thought Leadership & Communications.
Dr. Renda has a B.S. in psychology and biology from the University of Kentucky where he was a National Science Foundation Undergraduate Fellow.  He received his medical degree and a diploma in clinical psychiatry from the Royal College of Surgeons in Ireland, followed by a Master's in Public Health from Harvard University.
View Slides Here