Creating a Continuum of Seamless Care in Heart Health
Creating a Continuum of Seamless Care in Heart Health and a Culture of Collaboration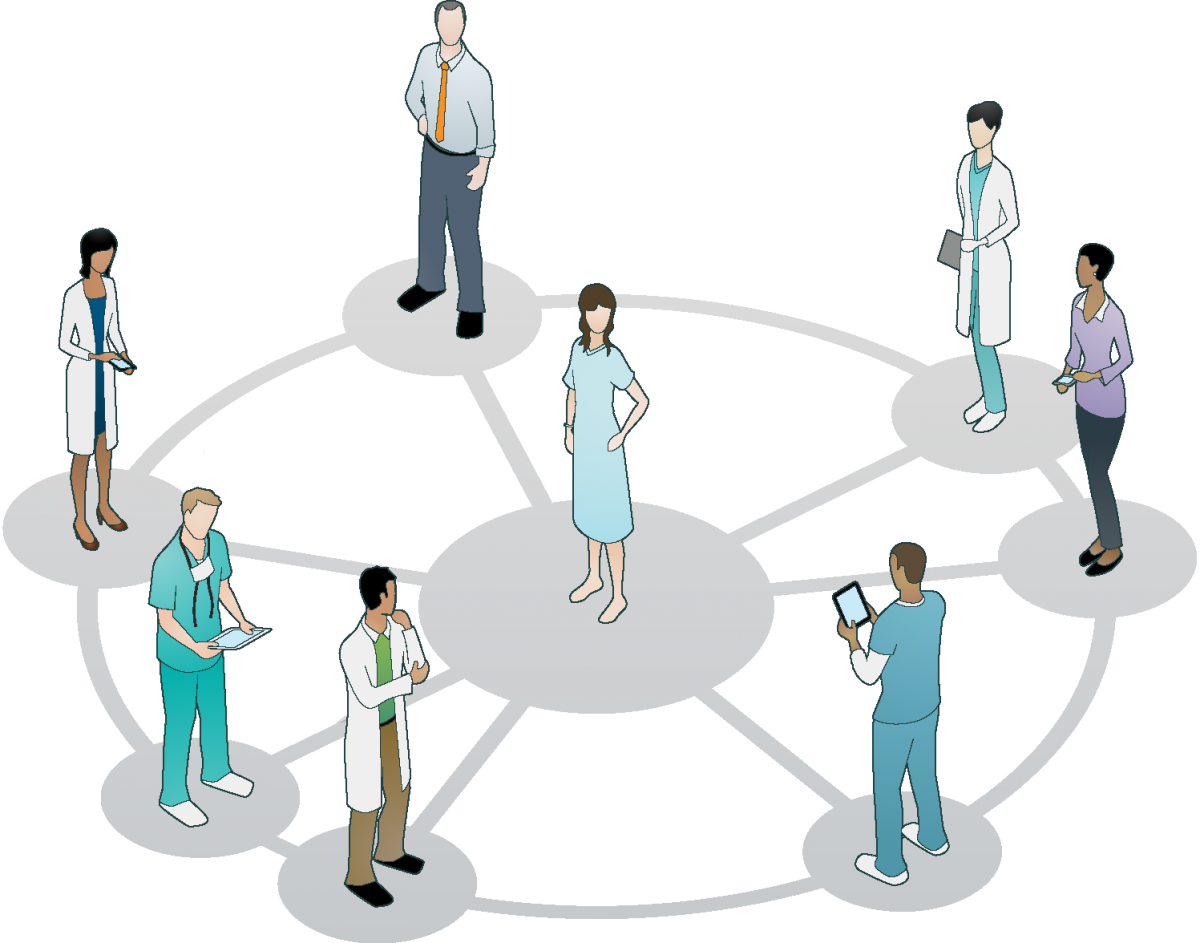 On Tuesday, October 17, 2017, eHealth Initiative (eHI) hosted it's second Continuum of Seamless Care Executive Meeting in Washington, DC. Twenty executive leaders, representing multiple industries and organizations, engaged in an enlightening discussion on the number one killer of all Americans, heart disease. This roundtable delved into the nuances faced by physicians and hospitals in their attempts to achieve seamless care, through reliable delivery of patient needs. The roundtable addressed improving patient outcomes, addressing fragmented care, and finding collaboration at the intersection of cardiology and radiology.
Heart Disease in the U.S.
Laying the foundation for the day-long discussion was Chief of Cardiology at Montefiore-Einstein Medical Center in Bronx, NY, Dr. Ileana L. Piña. Her presentation, Heart Disease in America: Opportunities & Need for a Continuum of Care informed the group that heart disease is particularly detrimental to Black and Bible Belt communities in the U.S. and is already the number one cause of death globally [1]. Susan M. Campbell, Vice President of Public Policy at WomenHeart: The National Coalition for Women with Heart Disease, presented on the numerous disparities faced by women with heart disease. Participants noted that women are more likely to have heart attacks with no obstructive disease and that imaging works differently in women's bodies [2].
For many years heart disease rates declined, for both men and women, thanks in part to concerted education and awareness efforts led by groups like the American Heart Association. Despite the fact that heart disease is effectively treatable with medication [3] [4] and reducing systolic blood pressure to 120 significantly reduces cardiovascular disease and mortality [5], deaths remain alarmingly high and are compounded by co-morbidities such as obesity. The number of hospitalizations for heart failure predict patient mortality. [6]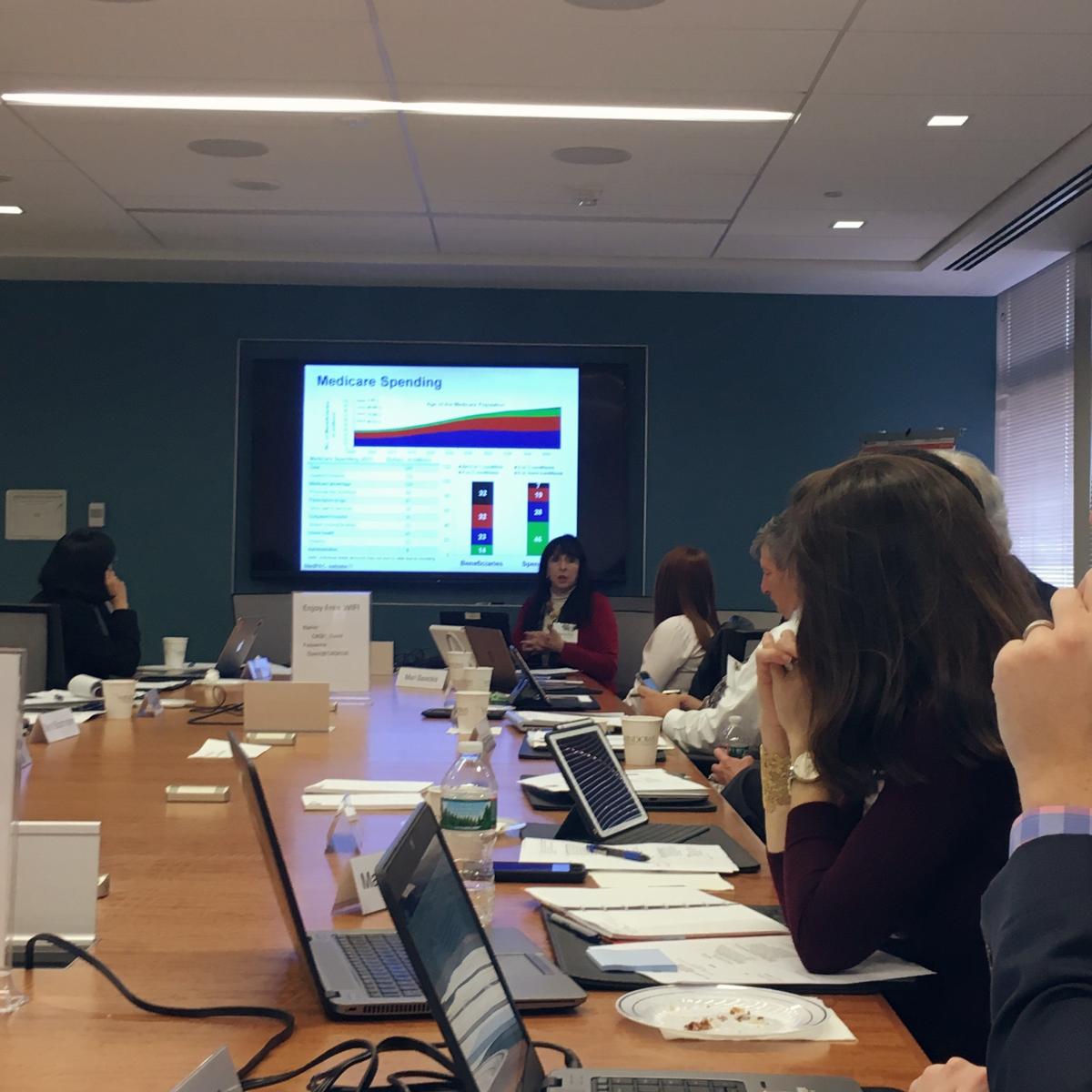 Dr. Piña's presentation touched on many salient points about heart failure and its cost to healthcare:
If a hospital exceeds the 19.6% national readmission rate [7] within 30 days of initial discharge, the Centers for Medicare and Medicaid Services (CMS) withholds between 1-3% of reimbursements related to heart attacks, heart failure, and bypass surgery [8]
Heart failure is the most common reason for patient rehospitalization within 30-days of discharge [9]
Follow-up care within 7-10 days after hospital discharge is a CMS requirement and has proven to be beneficial for high risk patients [10], however 52% of patients receive no follow-up care within 30 days of discharge [11]
More than 80% of patients who present in the Emergency Department (ED) with chronic heart failure are admitted to the hospital [12]
Forecasts of the impact of heart failure in the US predict that costs will increase by more 120% between 2012 and 2030 [13]
"We are seeing an increase in mortality even though we are reducing hospitalization."
– Physician Participant
Dr. Piña is leading an initiative to improve patient outcomes, which also creates financial savings for her institution. Process mapping was her key to success, as she learned the inner workings of various processes related to patient care. Making a follow-up appointment, at the time of discharge; conducting a comprehensive medicine reconciliation; and educating patients on when they needed to call the cardiologist were successful interventions that improved quality. After spending one-year training pharmacists on patient care related to cardiology, she initiated a "Brownbag Clinic" run by her hospital's pharmacists. The Brownbag Clinic allowed patients to practice medication adherence and stop the use of unnecessary medication
Dr. Piña's research mirrored key findings of eHealth Initiative's September 19 eMAC Roundtable, a committee meeting on electronic medication adherence. The readmission rate for those participating in the Brownbag Clinic was 8% versus 24% in patients that did not participate.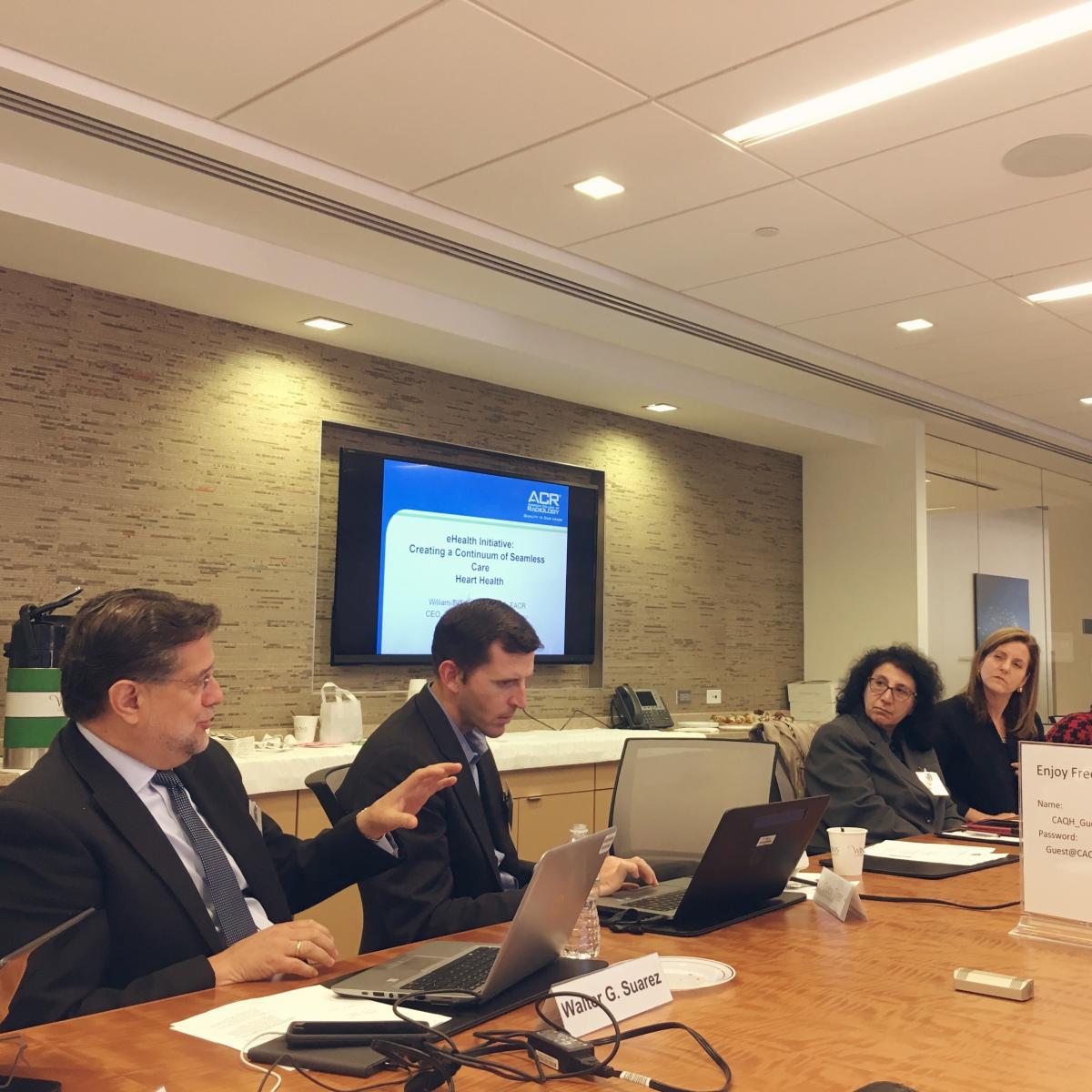 Telemedicine also played a role in improving outcomes for heart failure patients. The unequitable distribution of broadband across the U.S. was mentioned as an important factor in the implementation of telemedicine. Participant Meryl Blooomrosen, Senior Director of Federal Affairs at Premier reminded the group that coastal cities enjoy numerous broadband options, that are not available in parts of the country that are still reliant on DSL and dial-up connections. Broadband supports telehealth and virtual offices, which can only be a reality when communities have access.
Radiology & Cardiology: Prevention, Diagnosis, New Technologies, and Seamless Care
Dr. Brian Choi, a cardiologist and professor at George Washington University led the discussion on radiology and cardiology's role in prevention and diagnostics. Sharing their thoughts on achieving seamless care was Dr. William Borden, American College of Cardiology (ACC) Health Management Task Force member and George Washington University physician; and Dr. William Thorwarth, CEO of the American College of Radiology (ACR). The ACR and ACC have been developing Appropriate Use Criteria (AUC) for years, making a case for decision support tools and knowledge management systems that ensure evidenced based best practice data are routinely included in healthcare.
"It's hard to put the patient first if territorialism drives decision making."
– Dr. Brian Choi
Starting the conversation with tales from medical school, Dr. Choi illustrated how much territorialism is ingrained in medicine, often from the very beginning of medical training. Financial incentives can play a role in territorialism; however, it is further compounded by logistical barriers when data sharing is not feasible. There are some promising examples, as shared by participant Al Kinel, President of Strategic Interests. New York has a central repository for imaging reports, run by the local HIE. If institutions have IT systems that are configured for data sharing, the actual images can be also be shared. This example appears to be an anomaly.
Dr. Thorwarth shared his personal history of heart disease, reminding the group that radiologists are not immune to cardiological issues. In the age of value-based care, risk sharing by the patient has become an important component for healthcare. Patients are taking greater ownership of imaging and refusing the financial burden of repeating the same images with different practitioners. Providers are contemplating the best ways to get the most useful imaging data to the end user. For example, patients can purchase a portable EKG reader that attaches to their smart phone. The device takes medical-grade EKG readings and sends the results to their phone, which makes an appointment to check for abnormal heart rhythms or atrial fibrillation unnecessary.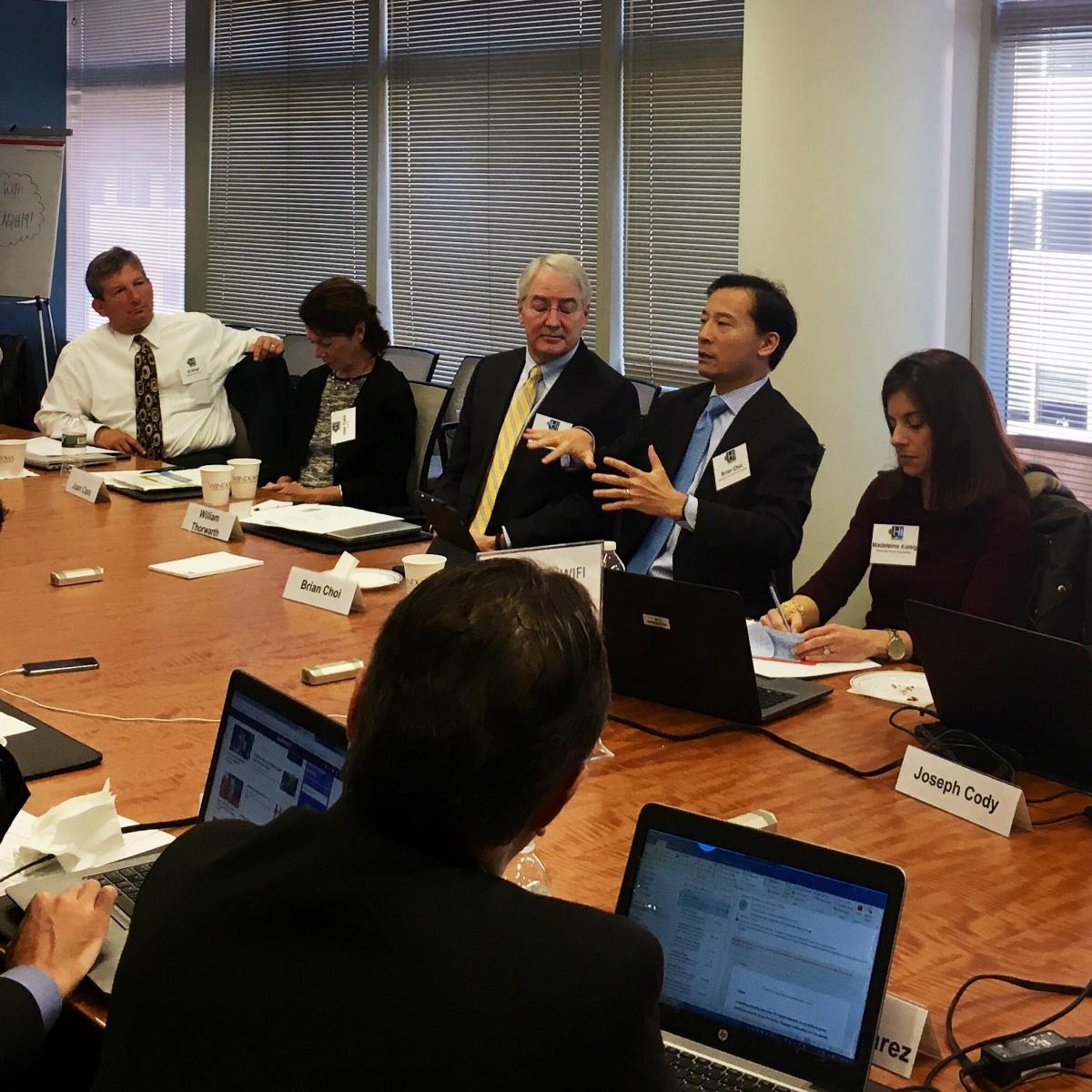 Technology within radiology and cardiology is quickly advancing. The time-consuming process of reading every imaging report is now automated. Computers can read and indicate if an EKG study is normal, which allows practitioners to focus more closely on abnormal studies. Augmented or artificial intelligence (AI) is a promising development for risk stratification of imaging results. The consensus among roundtable participants was that AI will ultimately strengthen healthcare and will not replace radiologist. However, radiologist who are adept with AI will replace those who are not.
Along the vain of technology in cardiovascular health was information provided by Shawn Forrest, a Senior Lead Reviewer from the Cardiac Diagnostic Devices Branch of the U.S. Food and Drug Administration (FDA). There has been a substantial amount of changes in regulatory oversight over the last few years, increased transparency, and decreased time frames for device applications at the FDA. Guidance on clinical decision support should be published by the end of the year and will contribute to 21st Century Cures. The FDA continues to work on innovative projects such as addressing alarm fatigue in hospital Intensive Care Units (ICU) and streamlining the review of connective health functionality.
Key Takeaways
"We must fundamentally change the ways in which we deliver healthcare."
– Physician Participant
Doctors must reframe patient care, moving from episodes of care towards a collaborative, non-territorial continuum of care
Fragmentation prevents information sharing among practitioners, however healthcare can move in the direction of seamless care with the push towards interoperability
Process is always important
Healthcare delivery must fundamentally change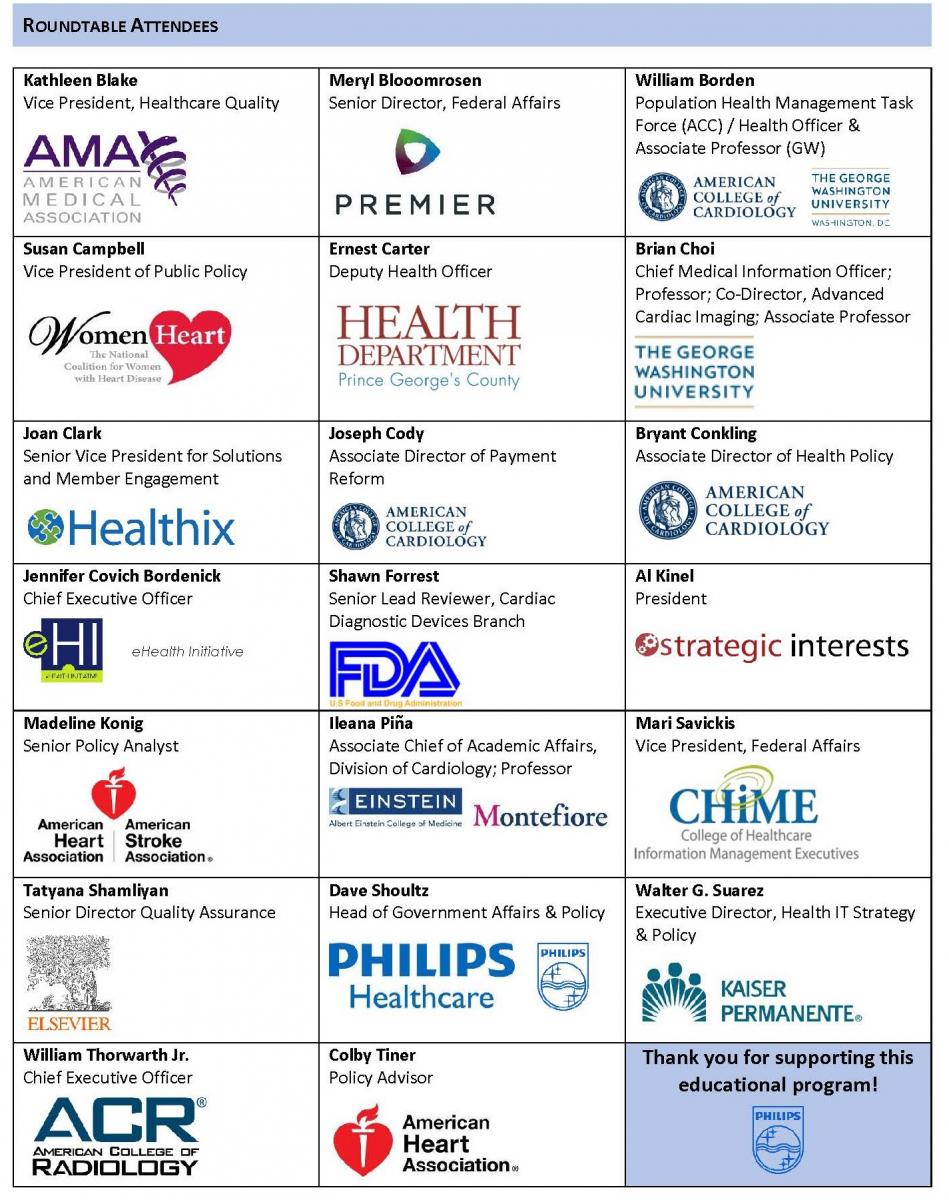 References
Cardiovascular diseases (CVDs), http://www.who.int/mediacentre/factsheets/fs317/en/
Imaging Tests, Provocative Tests, Including Exercise Testing in Women with Suspected Coronary Artery Disease https://www.ncbi.nlm.nih.gov/pmc/articles/PMC3433655/
Advances In The Prevention And Treatment Of Cardiovascular Disease, http://content.healthaffairs.org/content/26/1/25.full.html&force=1
Medications Used to Treat Heart Failure http://www.heart.org/HEARTORG/Conditions/HeartFailure/TreatmentOptionsForHeartFailure/Medications-Used-to-Treat-Heart-Failure_UCM_306342_Article.jsp
Systolic Blood Pressure Reduction and Risk of Cardiovascular Disease and Mortality, https://jamanetwork.com/journals/jamacardiology/article-abstract/2629537?utm_source=Silverchair_Information_Systems&utm_campaign=FTM_05302017&utm_content=news_releases&cmp=1&utm_medium=email
Repeated hospitalizations predict mortality in the community population with heart failure, https://www.ncbi.nlm.nih.gov/pubmed/17643574
Rehospitalizations among patients in the Medicare fee-for-service program, https://www.ncbi.nlm.nih.gov/pubmed/19339721
Hospital Readmissions Reduction Program, https://www.ncbi.nlm.nih.gov/pmc/articles/PMC4439931/
Worse Prognosis in Heart Failure Patients with 30-Day Readmission, https://www.ncbi.nlm.nih.gov/pmc/articles/PMC5126448/#R05
Transitional Care Management Services ICN 908628  December 2016, https://www.cms.gov/Outreach-and-Education/Medicare-Learning-Network-MLN/MLNProducts/Downloads/Transitional-Care-Management-Services-Text-Only.pdf
Timeliness of Outpatient Follow-up: An Evidence-Based Approach for Planning After Hospital Discharge, https://www.ncbi.nlm.nih.gov/pmc/articles/PMC4369604/#b5-0130115
The Burden of Acute Heart Failure on U.S. Emergency Departments, http://www.sciencedirect.com/science/article/pii/S2213177914001024
Forecasting the Impact of Heart Failure in the United States, https://www.ncbi.nlm.nih.gov/pmc/articles/PMC3908895/