Interoperability: The Time is Now!
eHI's Policy Guy Talks TEFCA & 21st Century Cures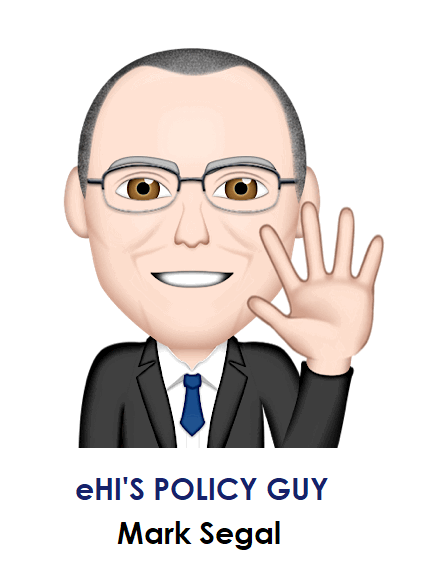 Over the past two months, the federal government has issued two major proposals to implement interoperability elements of the 2016 21st Century Cures legislation (Cures) that are of great importance to the eHealth Initiative and its members.
Late in February 2019, the Office of the National Coordinator for Health IT (ONC) released a proposed rule to implement multiple health IT-related elements of Cures, including provisions on information blocking and certification of health IT using standards-based open application programming interfaces (APIs).  On April 19, ONC released an updated second draft of its Trusted Exchange Framework and Common Agreement (TEFCA), first released in January 2018 and also required by Cures. Taken together, these documents seek to accelerate and reshape the U.S. interoperability landscape.
ONC and CMS Information Blocking and Interoperability Proposed Rules
The ONC proposed rule would implement congressional prohibitions in the Cures legislation on information blocking with associated penalties, while identifying seven exceptions for practices that would otherwise be considered information blocking but will not be subject to penalties if they meet one of these exceptions (e.g., preventing harm to a patient).  In implementing these provisions, ONC seeks to require a broad spectrum of information sharing across organizations and individuals while also limiting the fees, contracts and other potential barriers to data access that can be implemented for various interoperability elements named in the proposed rule (e.g., hardware, software, technical specification, or license used for interoperability). 
ONC also seeks, along with a companion proposed rule from the Centers from Medicare and Medicaid Services (CMS) focused primarily on health plans, to advance the use of open APIs based on the HL7® FHIR® standard. Its goal is to expand data access for patients and other authorized individuals and organizations through apps and applications that would use these APIs to gain secure access to electronic health information (EHI). As with information blocking, ONC proposes significant limitations and requirements for API pricing, contracts and transparency.
While the information blocking provisions apply to a very broad definition of EHI, the API certification provisions apply to a narrower, standards-based U.S. Core Data for Interoperability (USCDI). The USCDI, which will replace the ONC Common Clinical Data Set (CCDS), is intended to expand over time toward the Cures definition of interoperability, which calls for access to all EHI. Although the technical scope of the API certification provisions is narrower than that of information blocking (e.g., read access to the USCDI vs. access, exchange, and use of EHI), its transparency and fee provisions are stricter.
Trusted Exchange Framework and Common Agreement (TEFCA)
The proposed TEFCA seeks to complement the API data access model by creating a framework for trusted exchange that knits together the organizations, health information exchanges, networks, and frameworks that are increasingly exchanging health information. The TEFCA would use a consistent, standards-based trust framework that enables nationwide organizational and individual queries for health information as well as the ability to push health information messages to targeted locations.
This new TEFCA process would be overseen by a private-sector Recognized Coordinating Entity (RCE) to be selected by ONC and operated through a cooperative agreement. The building block of this model would be the Qualified Health Information Network (QHIN). QHINS would have participants (e.g., HIEs), which in turn have members (e.g., medical groups, hospitals, individuals, payers).  This model would be intended to permit nationwide queries for health information consistent with HIPAA privacy and security rules as well as pushed messages.
The TEFCA starts with the Trusted Exchange Framework (TEF)—principles to facilitate trust between QHINs and their members and participants that will be the foundation of the Common Agreement that will govern exchange. The Common Agreement builds on the TEF and will include Minimum Required Terms and Conditions (MRTCs)—mandatory terms and conditions that QHINs agree to follow and additional required terms and conditions developed by the RCE. In addition, the QHIN Technical Framework (QTF), which would include technical requirements and standards, would be incorporated by reference in the Common Agreement.
Implications for eHealth Initiative Members
ONC and CMS goals in putting forth these proposals include:
Improving the interoperability of electronic health information;
Enhancing care coordination; and
Promoting patient access to and control over their health information.
Achieving these milestones can modernize and move healthcare forward. As we think about these proposals, however, it is also important to be alert to potential unintended consequences as we enhance interoperability nationwide, through open, FHIR-based APIs and wider use of trusted exchange models. For example, initial reactions to the ONC proposed rule, in addition to recognizing the value of increased data liquidity, have highlighted the potential complexity and associated compliance costs, broad definitions of such concepts as Health Information Networks and Electronic Health Information, and how concepts in the proposed rule may interact to add to its complexity and reach, including challenges to existing market forces and investments in interoperability.
In the second draft of the TEF, ONC clearly listened to comments received on the first draft and has made changes to simplify and refine its approach. ONC is to be applauded for such efforts and for providing an additional opportunity for public input.
Comments for these proposals remain open. The comment period for the ONC proposed rule has been extended by one month to June 3. Comments on the TEFCA are open until June 17. The eHealth Initiative will be submitting comments developed by its Policy Steering Committee and many other organizations and individuals will be commenting as well. Please let your voice be heard!
 
Mark Segal, PhD, FHIMSS, Principal, Digital Health Policy Advisors, LLC. Member and Past Chair of the eHI Policy Steering Committee. April 25, 2019. Twitter @msegal111
eHI thinks Mark Segal is a super cool guy and is providing his opinions for informational purposes only. The opinions presented, do not represent those of eHealth Initiative, our members or the Foundation.